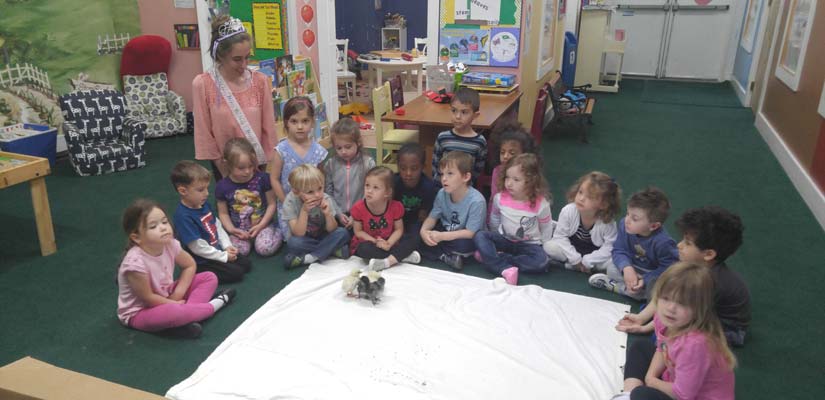 We are a "Nut Free" School
Because of multiple children with severe nut allergies, NO products containing nuts of any kind are allowed in The Little Village Schoolhouse. Please check all ingredients before adding possible foods containing nuts to your child's lunch or afternoon snack. Note: Soy butter is very close tasting to peanut butter and has been used by many of our families without the child knowing the difference.   Soy butter contains no nuts of any kind. Thank-You for your cooperation. We appreciate it.
Afternoon Snacks
Please be sure that your child has an afternoon snack if staying past 3:00pm.
Your Child's Basket
Please keep your child's basket stocked with a crib sheet, blanket, pillow, 2 changes of clothes (undies, socks, shirts and pants), slippers (no shoes on the carpets please!). Your children will be involved with many, many messy and non-messy activities this year.  Please send your child to school in clothes that he/she is allowed to get messy, painted, stained or dirty.  We do have aprons & oversized T-shirts to help protect their clothing but as parents we all know that these do not always work.
Additional Information & Reminders for Parents
If you're leaving your child for the first or fiftieth time and you feel the need to check up on things during the day, please feel free to call as often as you like. Any questions or concerns that you may have along the way, please do not hesitate to talk to Mrs.Meghan anytime.
Our front page alerts parents to school cancellations due to bad weather or any other unforeseen circumstance.  We follow the Smithfield Public School policy. The cancellation notice will be posted by 6:30 in the morning. Also check our web site often for parent notices and updates.
TLVS Opens: 7:00am
School Begins 9:00am
(Please arrive 15 min. early)
Preschool Dismissal: 2:00pm
Kindergarten Dismissal: 3:00pm
TLVS Closes: 6:00pm
Extended Hours: 7:00am – 6:00pm